Today I'll be taking an in-depth look at one of the most popular LED grow lights out there: the 240 Watt Blackstar (flowering edition) from Lighthouse Hydro (note that this light is sold by Gotham Hydroponics). Gotham Hydro claims that this is the number one selling LED grow light in the world. It is certainly their best-selling light and I wouldn't be surprised if it is the world's best-selling LED grow light due to its great price for the amount of power you get.
Actual Watts Drawn Grade: A+
Speaking of power, let's talk about watts. One thing you'll notice with all of these companies is that they list a certain wattage number (like 90W or 240W or 600W) but that number is a bit deceiving. They are listing the wattage number that would occur if the lights were run at maximum capacity (they are never run at maximum capacity because they wouldn't last long if they were).
This 240W Blackstar actually draws about 135 watts. This is a pretty powerful LED light that will cover about four square feet. This light gets an A + on watts drawn because you won't be able to find another LED grow light that gives you this much wattage power for this low of a price.
Warranty and Trial Period Grade: B-
The organization that manufactures this light (Lighthouse Hydro) offers a one-year warranty. This is better than no warranty at all, but nowadays a lot of the upper-end providers are offering three year warranties. In addition, the high-end models come with a 30-90 day trial period. Gotham Hydro has no specified trial period (they probably handle it on a case-by-case basis).
This 6 band 240W light gets a B- on warranty and trial period. It appears that Gotham is positioning itself as a quality, low-cost provider. They have the best prices around for what you get, but they are in part keeping prices down by not offering large warranty periods.
Customer Service Grade: A-
Gotham Hydroponics is a real company with a physical store front in the state of New York. They have a phone number you can call and real people you can talk to. I have heard numerous reports that the customer service is great and the company has quickly resolved any problems with their 240 watt Blackstar flowering light.
I would give this light an A+ grade for customer service but in my experience the people at Gotham are a bit slow to respond to their "Contact Us" form on their website. Not really a problem as you can pick up the phone and call them directly.
Heat Dissipation Grade: A-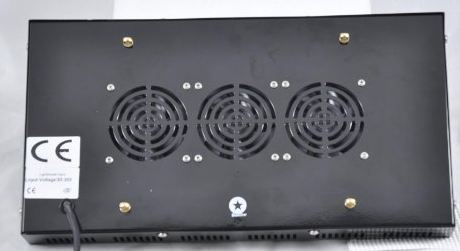 As mentioned in my article about finding a quality LED grow light, heat dissipation is a big deal. LED lights don't put off a lot of heat, but the chips themselves can overheat if the light is built poorly (read the article I mention above for a complete explanation of this). When LED grow lights don't last as long as expected it is usually due to a failure to dissipate the heat from the LED chips. There are two important factors when talking heat dissipation: (1) The Heat Sink and (2) The Fans.
As you can see in the picture of the 240W Lighthouse Hydro Blackstar light above, the fans are in place; that's a good thing. In addition to the quality fans, Lighthouse has added additional fins to the heatsink in order to absorb the heat (the more fins, the better). Finally, the makers of this light have spread the LED chips out a bit which allows for better cooling.
Spectral Wave Length: A-
The 6 Band 240W light puts out the following spectra: 380nm (UV), 425nm (Blue), 450nm (Blue), 630nm (red), 660nm (red), and 730nm (infrared). This is a good range of light that closely mirrors the peak absorption points of Chlorophyll A and B. The 380nm ultraviolet wave-length is pretty unique (most LED growing lights don't use that wave-length).
The light gets an A-. It would be a solid A+, but new tests are coming out showing that one wave-length of green would also be beneficial because it can penetrate deeper into plant tissues stimulating lower chloroplast development.
Beam Angle: B+
This light uses both 120 degree diodes and 60 degree diodes. Keep in mind that there is no perfect beam angle because the optimal beam angle depends on the height of the plant you are growing. For those growing shorter plants a 120 degree beam angle is better because it can cover more area. For those growing taller plants a 60 degree diode is more intense and penetrates deeper.
Cheapest Place to Buy
The cheapest I have seen the 240W Lighthouse Hydro go for is around$290.Keep in mind that $290 for this type of power is quite cheap in the LED world. I'd personally recommend buying it from Amazon for security reasons. Gotham Hydro sells directly through Amazon.
Recommendation
There are probably better LED grow lights out there, but not for the price. For those who want to get a powerful light that will grow your plant from start to finish, there really isn't a lower-priced LED than this 240W from Gotham Hydroponics. There is a reason it's their best-selling light; people don't want to spend a ridiculous amount of money upfront, but they want results. This light meets both requirements.