Pros:
Many models to choose from.

Cons:
Weaker 3w diodes.


Advanced LED Lights Inc. is a well-known company in the LED grow light industry. A lot of people have had successful grows using their products. Today I will review their Diamond Series lights as well as tell you a little bit more about the company.
Popular Lines of Lights
Most of my readers find it helpful to identify the lights being sold by a company before digging into the detailed review. In 2011, Advanced LED's most popular lighting line was the Extreme Flower line. However, their newest lights are the Diamond Series lights. The Diamond lights will be their most popular lights in 2012 and are the lights that they are recommending to new customers.
The Diamond Series (DS) line comes with six different options (listed in the table below):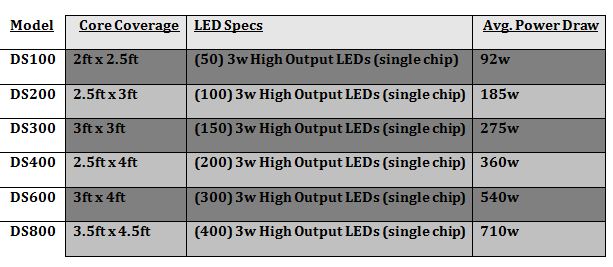 All of the lights are basically the same. The main difference between each of the lights within the line is the amount of power produced or watts drawn. For example, the DS 800 (actual watt draw 710) is obviously going to be physically bigger than the DS 100. The 800 module is also going to be a more powerful light and it will be able to grow more plants than the 100 module.
I love it when LED companies produce lines of lights like this because it allows you to be able to select the light that best fits your growing area.
My experience in this field tells me that the DS 200 will likely be their most popular light next year; closely followed by the DS 300.
Today we'll review the DS 200W light, but keep in mind that this review will be applicable for all of the lights on the Diamond series.
Price Range: A-
The DS 200 is currently priced at $500. That's a lot of money for your average gardener, but it's actually quite a great deal for those who are familiar with the LED growing industry. If we take a look at the price per watt then we'll see that this light comes out at $500/185watts = $2.7 per watt. A few months ago I would have said that the industry average is around $6 per watt. However, the LED industry is evolving so rapidly that I'd say the new average for high-end lights like this one is around $4 per watt.
Warranty: A
The Advanced LED lights come with a 3-year manufacturer's warranty. Paying $500 for a light that will last you at least three years isn't a bad deal at all. Especially when you consider that a comparable HID light (400 watt HPS) would cost you $200 and only last you one year.
Returns and Refunds: A+
Advanced LED offers a 90 day trial period where you can test out the light and make sure it's what you want. They get an A+ on their returns and refunds because they don't ask that you document your grow in order to be able to send the light back. If you're not satisfied, then just log on to their website, fill out a refund request, and ship the light back. The one thing that you will need to do is keep the original packaging of your light. You'll need the original packaging in order to get a refund. Here are the complete details: http://www.advancedledlights.com/categories/Terms-%26-Conditions/
Actual Watts Drawn: B
You may want to read the following to understand why watt draw is important for LED grow lights. The DS 200 has an actual draw of 185 watts. I wish that LED manufacturers would clear up the confusion by labeling their lights according to their actual watt draw. Some other lights like the Penetrator and the Spectra do a better job of letting you know what type of light you are really getting.
I do like that Advanced LED is offering some extremely powerful lights and I think that the "core" coverage areas they list are reasonable. Their DS200 will probably provide you a true coverage area of about four square feet.
Heat Sinking System:B
Ensuring that an LED light has a good heat sinking system is extremely important. The lights are designed to last for 50,000 hours but they won't make it that long without a good heat sink in place. I was happy to see that Advanced LED upgraded their heat sinks when they released their Diamond Series. LED manufacturers run into trouble when they try to produce a new, more powerful light without investing in a new heat sink.
I wanted to know more about their "new" heat sink so I asked them about it. Their response left me wanting more information:
Me: The website mentions an upgrade in the heat sink for the Diamond series. Any details on what the upgrade was?
Advanced LED: The heat sink is a dual heat sink which allows the unit to run cooler.
This interaction and other interactions I have had with Advanced LED have left me wondering how much the owners of the company know about LED lighting (more on this below where I talk about the company itself).
Color Ratio: A–
The Diamond Series 200 light has 11 wavelengths of color output (similar to other leaders in the industry): 760nm, 740nm, 720nm, 660nm, 630nm, 615nm-480nm, 460nm, 440nm, 415nm, 380nm.
Beam Angle: B+
The DS 200 uses ninety degree diodes. About three years ago the industry standard was 120 degree diodes. Since then manufacturers have realized that 120 degree beam angles didn't provide enough penetration. Most of the leaders in the industry have moved to 60 or 90 degree beam angles that provide more focused and intense beams. I'd personally like to see Advanced LED mix in a couple of 60 degree diodes like some of the other leaders in the industry.
New Diamond-Looking Diodes
I wish Advanced LED would tell us why their new Diamond-Looking diodes are better than their old diodes. I'm thinking that maybe the diamond diodes are an attempt to replicate the Penetrator series X-lens technology.
One thing that is better about the new DS diodes when compared to the Extreme Flower LEDs is that they are true 3-watt diodes instead of 3-watt, 3-chip diodes. See my post on 1w vs. 3w vs. 3w-3chip LEDs for more understanding.
The Company: ?
Advanced LED is a little more private than most of the other LED companies on the market. Their website indicates that they're part of the Better Business Bureau (BBB) and that their headquarters are in Bentonville Arkansas. However, the website doesn't tell us anything about who they are and why they have expertise in LED growing technology. I personally would like to know more about the credentials of this company. Do they have any botanists on the team? Do they make their lights in Arkansas or in China? What's the history of the company?
I have contacted Advanced LED multiple times asking for an interview, but they have always declined my invitations. They are, however, always willing to answer my questions about their lights.
Because they refused to be interviewed I had to put on my reporter hat and start doing some research. After digging around for a while, all I could find out about the company is that their incorporated name is actually Market Smart. Apart from LED grow lights, Market Smart also sells dog and cat furniture online. Basically this is an Internet Shopping company.
What does this mean? It could mean a lot of different things, but my guess is that the owners of this company aren't scientists or botanists. They are probably Internet Marketers/Entrepreneurs who saw that the LED industry was growing and decided to hop aboard. This isn't necessarily a bad thing. I assume that the owners have taken their time to learn all about LED technology. My guess would be that they don't manufacture and design their own LED grow lights though. They probably work with companies in China to get that done.
Yes, I'm making a lot of assumptions here, but that's what happens when a company refuses to be interviewed.
After talking with some other people in the industry I get the impression that perhaps Advanced LED is more of a follower than a leader. They try to replicate their competitors, but don't spend much time or money in research and development themselves. This isn't necessarily a bad thing from a consumer standpoint, but it does make me worry about the quality of their products.