ProSource Worldwide Interview with Douglas Cochrane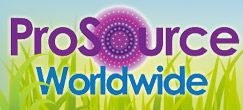 Today, we'll be talking with the good folks over at ProSource Worldwide. One thing that I've been impressed with as I've set up this interview is their level of professionalism and business-like attitude. When I interact with this company, I get the impression that there is a team of people who are dedicated to providing high quality lights and good service. In other words this is a business with individual people dedicated to specific roles. This is in stark contrast to a lot of the LED grow light companies out there who have one person trying to do everything.
Today's questions are directed to Douglas R. Cochrane (Sales Manager at ProSource Worldwide Inc.)
Nate: Hey Douglas (or do you go by Doug?) thanks for taking some time to talk with me today. Because most of my readers interact with LED grow light companies through the Internet, sometimes they feel like they aren't interacting with real living, breathing people. It's nice to be able to have sort of an informal conversation with a human being that works at one of these companies.
Nate: So, tell us, what's ProSource Worldwide been up to lately? What are some of your recent developments? Any cool plans for the future that you can share with us? If not, that's perfectly understandable. I recognize it's a semi-secretive industry where trade-secrets are important.
Douglas: Hi Nate, you can call me Doug, that's no problem.  Well, we're always working to develop a more efficient grow light and have been doing so for nearly 5 years now.  We believe that we have developed a light at current that makes mainstream commercial use a viable option and we're certainly seeing this in our commercial accounts we're outfitting for.
Nate: Which of your lights would you recommend to those who are just starting out with LED grow lights?
Douglas: This would ultimately depend on the grower and how much risk they want to take on in the beginning.  We'd much rather see you take a single 90W UFO and learn how to dial in the parameters perfectly before you risk your entire crop to this type of lighting.  Most people have no idea that there definitely is a difference between growing with LEDs versus the traditional HPS lights.
Nate: What's your most popular light right now? I would guess that in the past it was the 90w Illuminator. Has that changed?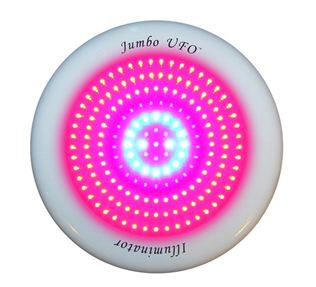 Douglas: By far it's the 180W Jumbo UFO (pictured on the right).  The mentality out there is to produce the most product you possible can and people are replicating what the commercial growers are using and that's the 180W Jumbo UFO.
Nate: To me, all of your lights' names make sense except for the Hybrid. What does the name Hybrid stand for, a Hybrid of colors?
Douglas: This was simply a way of describing the unique design we came up with several years ago to incorporate the use of the 1W and the 3W diodes within the same housing.
Nate: One of the things that has impressed me the most about ProSource Worldwide's lights is the 90 day risk-free trial. This allows growers ample time to test out the lights and see if they work. What's ProSource's policy for this risk-free trial? I only ask because some companies require that you jump through a lot of hoops to actually return their product. Obviously I don't expect people will be returning any lights, but it's good to know what the policy is.
Douglas: The idea behind this promotion is to put our money where our mouth is.  You will see a lot of marketing out there of people claiming to be the best in the business, but without backing up your words, you're just another voice in the crowd.  We felt this 90 Day Trial would show people we're very serious about our lights capabilities and we are taking that risk of the unknown off the consumers backs.  Very simple, you have 90 Days to trial the lights and if you're not 100% satisfied, just call us up and we'll give you an RMA# and promptly refund your purchase price upon delivery.  No trickery involved…
Nate: I'm a big believer that heat sinks make LED grow lights last longer and I stress that pretty heavily to my readers on the site here. What can you tell us about ProSource's heat sinks?
Douglas: The heatsink has never been a problem for us, the #1 failure in these types of lighting are the power supplies.  We have a failure rate less than 1% and this usually occurs in the rural areas with irregular power flows.
Nate: What's the diode configuration on the Hybrid series lights (pictured below)? I found all the diode configurations for the other series, but not for the Hybrids. Are they using 1 watt or 3 watt LEDs? In the future do you see ProSource ever using 3 watt LEDs? My understanding is that the 1 watt chips are more efficient, but that the 3 watt chips may provide better penetration. Both have their strengths and weaknesses.
Douglas: We use mainly the 1W Diodes in all of our lights, simply for the reason of output vs. input capability.  By far the 1W Diodes will have more output vs. input than any higher wattage chip available on the market.   If you have two equal wattage lights, one being made with the 1W diodes and the other with 3W diodes, how can you have deeper penetration if the 3W diodes put out less energy than the 1W diodes?  This is a real misconception in the marketplace and there are specific advertising campaigns that tout the use of the higher wattage diodes.  We really don't understand this concept from a common sense point of view.
Nate: Are you using 60, 90, or 120 degree beam angles? Or are you using some sort of mixture? Again, in my mind there is no "best" beam angle. 120 degrees gives you wider coverage whereas 60 degrees gives you a more concentrated beam.
Douglas: We settled on the 90 degree beam angle because it allows our growers to achieve a 2'x2' footprint for the UFOs we offer and achieve near maximum capability with the light.  You can increase that footprint to a 3'x3' by raising the light and maintain a balance between production and size of footprint.  A 60 degree angle was just too narrow when we tested this in the past and although we had some prolific growth occurring, it was uneven and caused a lopsided distribution of energy to the plant.  A 120 degree is just too broad, and although it allows for the widest dispersion of the light, it just lacks the intensity required for any type of heavy fruiting/flowering cycle.
Nate: My readers understand that a 1-watt diode doesn't actually draw exactly 1 watt of power. What are the actual watts drawn on your lights?
Douglas:
90 Watt Illuminator –  80-85 Watts
180 Watt Jumbo Illuminator –   155-160 Watts
350 Watt Pro-Series Hybrid –   290 Watts
600 Watt SuperPro Hybrid –   520 Watts
Flower Accelerator –   55 Watts
90 Watt Mother Keeper –   85 Watts
180 Watt Mother Keeper –   160 Watts
Nate: If I forced you to tell me one or two things that really separated ProSource Worldwide from its competitors, what would they be?
Douglas: Aside from the fact that we have been in the business for over four years now and have pioneered the first version of the Tri-band model, which was a breakthrough in LED Grow Lights at the time,  and bringing the now 5-band light we currently offer, that we are visionaries in this industry and always looking to improve our products to be the best in the business.  We will ultimately build the best light the world has ever seen, we're just waiting for the technology to catch up to where we need it to be.  The true ability of an LED Grow Light once properly designed can far surpass anything that an HPS light could ever deliver, we can compete with HPS in terms of production now, but once we ultimately conquer this technology, HPS will become way of the Buggy Whip and the Dinosaur.
Nate: Anything else you would like to share with us about ProSource Worldwide?
Douglas: We would only advise the hard-working people that are looking to LED Grow Lights as their new light source to just do your homework.  Don't go by how fancy and decorative a website is; go by true testimonial and word of mouth. Look for a company that has been in business several years and that can show true documentary evidence of their lights in action.
Conclusion
I certainly appreciate Doug taking some time to answer these questions. The truth is not every company is willing to be interviewed (I think my readers would be surprised by how many companies seem to avoid me or tell me no). The fact that ProSource is willing to be interviewed and open goes a long way to establishing their credibility. Check out their great LED grow lights at www.prosourceworldwide.com.