Pros:
3 Year Warranty.

Cons:
No Trial Period.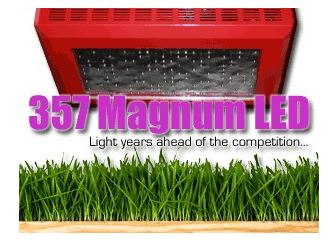 There has been a lot of hype recently over the 357w Magnum LED from Grow Perfect Technologies Inc. Today, I'll take a deep look at the light and provide you with information that will hopefully help you determine whether or not the light lives up to the hype. There are six criteria that I always look at when evaluating a light: warranty, trial period, heat sink, spectral wavelength, actual watts drawn, and the beam angle. Now of course all this information is fine and dandy, but I also want to see real grows where this light has worked. At the end of this 357w Magnum LED review I'll put up grow journals that will hopefully help you make up your mind. If you have your own grow journal, let me know and I'll get it listed up here with the rest. Feel free to add any of your own insights on this light in the comments section. Without further ado…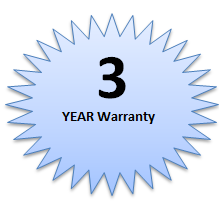 Warranty: A+   The 357 mag (named after a popular gun) has a three year warranty. The industry standard is only one year so this is a good sign. If it's something small that needs repaired, Grow Perfect can simply ship you out the part that you need. If you'd prefer that they fix the light for you, then they have facilities in both North America and Europe. Trial Period and Return Policy: B- This is probably the biggest disadvantage to the 357 watt Magnum that I have seen. There is no mention of a trial period or return policy on 357magled.com. I decided to do some more digging and found their return policy over at the Grow Perfect Technologies Inc. official website: ledgrowlightsdirect.com. Basically they have a 24 hour return policy. The industry standard is at around 30 days. Not a deal breaker, but I'd personally like to see them bump this up (yes I've already contacted them about it and you're welcome!). **Update** I just heard back from Grow Perfect about a potential trial period. They said it wasn't necessary because of the number of successful grows their customers have had with their lights. They made it sound like it's not something their customers ever ask them for. Heat Sink: A Those of us with some experience with LED grow lights know that the heat sink of an LED light is a big deal. Without proper heat dissipation, LED lights simply don't last as long as billed (read more about this in my criteria for finding a good LED grow light post). The people at Grow Perfect realize that the heat sink is important. For this reason they developed a "patented double plate heat sink design." This design allows the heat to diffuse quickly from the individual LED chips on the light ensuring a long life.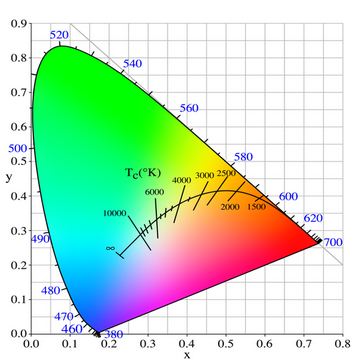 Spectral Wavelength: A- I'm not sure if anyone in the world is really qualified at this point to give a grade on spectral wavelengths. I say this because there is always some debate about the exact spectra/colors and ratios that produce the best results. Experts seem to agree that blue and red light are important, but after that they have very different opinions (this probably has something to do with each type of plant being a bit different.). I decided to give the Magnum an A- on its spectrum because it went with the "more is better" approach. With 11 bands (420nm/439nm/469nm/483nm/3000k-3500k/642nm/667nm/680nm/720nm) of light they are definitely covering all of their bases. However, you don't get a perfect score in school or in real life if you provide more than is necessary. You still get a good grade, but not a perfect one. Does this light provide more wave-lengths than are necessary? Some people think so. However, sometimes it's better to be safe than sorry. Actual Watts Drawn: A If a company provides you with the information to the actual watts drawn for their lights, then they're probably a good company. LED grow light experts agree that actual watts drawn are a key indicator of the coverage area you are going to get with a light. The 357 Magnum actually draws 180 watts. They get an A grade for sharing the information. We learn from this that the light covers an area of about four square feet for flowering purposes (probably closer to 6-8 square feet for vegging purposes). This is a good amount of area for the price. Yes, their website says the footprint of the light is about 9 square feet. The sweet spot of the light is closer to four-square feet though (this is pretty standard for most high-powered LED grow lights). Beam Angle: A The 357w Magnum LED grow light has a mixed beam angle using LEDs that vary between 60 and 90 degrees. This is a good combination for getting both coverage and deeper into the plant. Also Worth Mentioning These are 3-watt LED chips which means they are better for penetrating down to the lower levels of your plants. Most companies nowadays offer a 3-watt chip option. *Update: Just learned that Magnum actually uses a 3w-3chip setup. Most experts (myself included) don't think this is as good of a setup as a true 3 watt diode. You can go here to read more of my thoughts on the subject: http://growtutor.com/461/1w-vs-3w-vs-3w-3chip-in-led-growing-lights/. They get their diodes from Bridgelux (one of the top three LED makers according to most experts). The person I talked to that works at Grow Perfect mentioned that they will be releasing a new light on October 1, 2011 called the Magnum+. It might be a good idea to wait until then before you make your purchase if you decide to go with this light. Price: $799 for original Magnum. $1,199 for Magnum+. My Comments: This company seems to be taking a leadership role in LED growing technology. The Magnum LED grow light has been a game-changer and a lot of people have had successful results using it. Their marketing is a bit extreme for my tastes, but these lights get the job done. This light comes highly recommended. Grow Journals Using the 357 MAG LED http://www.thcfarmer.com/forums/f54/brainstorm-under-357-magnum-leds-29391/ http://www.thcfarmer.com/forums/f137/testing-357-magnum-39883/ http://www.rollitup.org/grow-journals/416863-9-purple-kush-under-360-a.html http://forum.grasscity.com/indoor-grow-journals/865673-super-lemon-haze-magnum-led-journal.html If you know of another good grow journal on the 357 Mag LED, let me know in the comment section. Click here to go to the official 357 Mangum Website.