Pros:
5 year warranty.

Cons:
Weak diodes.
Broken website.

The Spectra LED grow light by Grow LED Hydro Inc. is a heavy-duty light designed to grow cannabis. It is well-respected in the online marijuana forums. Not everybody uses this light, but there are very few people who have something bad to say about it (which you'll realize is quite the miracle if you've ever visited these forums). Below is my review of the Spectra LEDs using my normal criteria for evaluating these lights.
First off we need to take a look at the line of products being offered by Grow LED Hydro (GLH).
Spectra LED 180
Spectra LED 290
Spectra LED 500
The main difference between the three lights is the number of watts drawn. Below I'll be reviewing the 180 watt model, but keep in mind that if you understand one of the models, then you understand them all.
Trial Period: A+
GLH offers a 120 day trial period. This is the longest trial period I have seen in the industry and therefore gets the highest graded possible. 120 days is plenty of time to try out the light and see if it will work for your specific grow. Keep in mind that this trial period does have some stipulations: you have to keep a grow journal with pictures and what nutrients you were using. For full details see here: http://growledhydro.com/returnsandwarranty.html
Warranty: A +
For years manufacturers of LED grow lights have claimed that their lights will outlast HID lights by years, but they never put their money where their mouth was. Finally, a company is offering a warranty that actually indicates some belief that their lights will indeed last a long time. GLH offers a five year warranty on their Spectra LED grow lights. You won't find any high-pressure sodium lights that offer a warranty even close to that.
Wattage: A+
The Spectra 180 has an actual draw of 180 watts. This is a big deal because most LED lights are labeled incorrectly (read here if you want the nitty-gritty about watt-labeling). Mike, the owner of GLH, is doing it the right way by labeling the lights by the amount of watts they actually draw. I recommend around 200 watts for a four square foot area. Mike mentions that this light will cover about five square feet and I think that's a fair assessment. It will cover more than that during the veg stage, but during flowering four or five square feet sounds about right.
Cooling System: B+
Most people I talk with are surprised to find out that the number one reason LED lights break is heating issues. They are baffled because they've always assumed LEDs don't produce any heat.
It's true that LEDs don't produce near as much heat as traditional lights, but the individual diodes can get hot (read here about how LED grow lights work). If they get too hot, then they will break. This means that for an LED to last as long as it should, the light needs to have an excellent cooling system in place. The two main components of the cooling system are the heat sink and the fans. Here's a look at the fans on the Spectra 180.
I don't know as much about the Spectra heat sinks as I would like because I haven't been able to get a hold of Mike (see my conversation about this below), but there are a couple of things that lead me to believe the heat sinks are in good shape.
1. Grow LED Hydro has upgraded the heat sink with their new 2011 edition. Problems with the heat sink occur when companies upgrade the power of the light (the watts), but keep their heat sink the same. This would be like upgrading the power of your car, but not upgrading the brakes. You might be able to drive fast, but you won't be driving for very long. The fact that GLH is upgrading the heat sink with each new edition is a very good sign.
2. The warranty is for five years. If a company is skimping on the cooling system, then they aren't going to offer you a five-year warranty.  If the heat sink isn't working properly you'll know within a year (two at the most), because all of your diodes will start going out.
Price: A-
Did I mention that these are heavy-duty lights meant to grow plants from start to finish? These things are powerful and probably aren't intended for your average indoor gardener who just wants to grow a flower or two. These are expensive lights because they are intended for serious growers. One number that I like to look at is price per watt. For heavy-duty lights like this one the average in the industry is around $4 per watt. This light comes in at $2.78 ($499.99/180 watts) per watt. That's a pretty fair price.
Spectrum: A
The Spectra series of LED lights approaches the light wavelength issue with the "more is better" approach. When LEDs were first being used as growing lights, it was pretty common to see lights that just had red and blue light around the 440nm and 600nm wavelengths.
This type of light with just red and blue will work great as a supplemental light. As LED grow lights have evolved to become a primary light for plants, the amount of wavelengths provided by these lights has increased. The Spectra 180 watt model comes with 12 different wavelengths.
GLH doesn't release their wavelengths for proprietary reasons, but I'm sure their spectra is similar to the 357 Magnum LED which has 11 wavelengths. I would guess that the Spectra's wavelengths are close to the following: (420nm/439nm/469nm/483nm/3000k-3500k/642nm/667nm/680nm/720nm/740nm).
Beam Angle and Diode Chips: B-
If there was one thing that worried me about the Spectra lights, it's their combination of beam angle (90 degrees) and 3watt-3chip diodes.
Most of the best lights on the market are using some 60 degree diodes in order to provide a more intense beam that will reach to the lower parts of the plant (here's a funny write-up I did on LED beam angles over at myhydroponicgardening.com). 90 degree beam angles aren't as intense as 60 degree beam angles. A combination of different beam angles is pretty common. All of that being said, a 90 degree beam angle will work just fine.
Where I get worried is when you add a 90 degree beam angle with a 3-watt, 3-chip light. Here's my detailed write-up on 1 watt vs. 3 watt vs. 3 watt -3 chip LED lights. The basic idea is that a 3 watt, 3-chip light looks bright up close to the human eye, but it lacks penetrating power. Most of the best lights are using pure 3-watt diodes instead of 3watt, 3 chip diodes.
This probably isn't a deal breaker because many people have had great success with this light, but it is definitely something I would like GLH to explain.
Website: F
The Spectra lights by Grow LED Hydro are some of the best lights on the market, but their website is without a doubt the worst on the market. Here are just a few of the blunders that I run into when using growLEDhydro.com.
Blunder 1: The contact form is broken (see image below) and has been for months. I've tried contacting Mike about this but I haven't heard back from him. Nor have I seen the contact form fixed.
Basically, you can't send Mike a message. My first experience with this was typing in a super long message and then clicking "Send Message." Nothing happened because I couldn't type in the verification code. This definitely should be filed under cruel and unusual punishment.
For those of you would prefer to email instead of talk on the phone there are three things that you can try (I say "try: because Mike still doesn't seem to respond to my emails; you can't blame him though because I'm just the pesky review guy).
Option1: Try using sales@growledhydro.com. I hunted down his email in the forums by contacting some of the people that have bought his lights.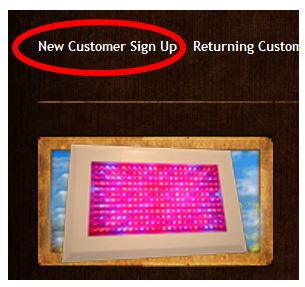 Option2: Sign up as a customer. On the homepage of the site there is an option to sign up as a new customer. You have to enter in your name and address, but you don't have to give your credit card number or anything of that nature to sign up. Once I signed up it gave me an option to send Grow LED Hydro a message. However, now that I've left the website and come back to it, I can no longer find that option.
Option 3: mike@growledhydro.com. After I signed up to be a customer I received an email from this account.
Blunder 2:
The forums don't work. Not a huge deal, but don't include a link to the forums on every page if they don't actually work. On one page of the website it even invites you to the forums saying, "come into our forums and have a discussion with some of the growers that have actually used my lights…".

The forums are looking pretty sparse.
Blunder 3:
There are a lot of other minor glitches that are a little annoying, but probably aren't worth covering in-depth. For example, the website has "The New Website is Under Construction" intermittently scattered throughout the site. At one point during the sign up process I was asked to purchase Zen Cart which I imagine is the software used to set up the site. The whole website experience is quite ridiculous.
I'm a fan of the lights, but the website needs overhauled in a bad way.
Grows I've Found Using the Spectra
Leave a comment in the message box below if you want your grow listed here. As time passes and I find legitimate grows, I'll be adding them to this section.
Questions I Have about the Spectra
Why the secrecy with the wavelengths? All your competitors are publishing the information.
What's up with the 3-watt 3-chip diodes?
When will the website be overhauled?
You can visit the official site here: http://growledhydro.com/
Other LED grow light reviews you might be interested in: